The Garden Shed
offers a side entry layout while providing more than adequate storage and utility space. Large double doors provide easy access while the windows provide natural, even lighting, making it easy to find your gardening tools and equipment.
Built to handle all your storage needs, the Garden Shed is the perfect choice for gardening and yard tool storage, and is based upon our popular "utility" storage shed, but with a side door, and a window for light.
As with all Better Built Buildings, the exterior is virtually maintenance free, saving you time and money.
Your Better Built Garden Shed will be custom built to your specifications, allowing you to specify such things as overall building size, door and window sizes and locations, and shingle colors that blend with existing structures.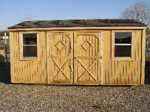 Built upon sturdy 4x6 pressure treated skids with 2x6 treated floor joists and heavy duty 3/4" plywood flooring, the Garden Shed is protected with 25 year solid tab shingles, and is built to provide many years of trouble free service while safely protecting your valued contents.
Be sure to check out our other storage buildings including the
Cottage Shed
with a 'salt box" style roof, and the
Side Loft
which features a similar layout that can be customized to meet your needs. The side loft building features a Gambrel roof with overhead loft storage providing additional room for less frequently used items.